Hackathon 2018: countdown to the creative disruption
The final team selection for the Aegon Hackathon 2018 will be revealed in the third week of August.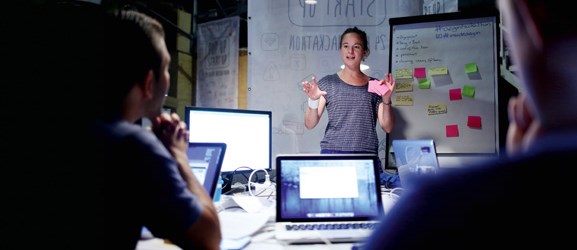 It doesn't matter whether you work at Aegon or not. Whether you live in Europe, Asia or North America. Or whether you are a programmer, designer or dreamer, or someone who gets a kick from thinking outside the box. The only prerequisite for taking part in the Aegon Hackathon is that you want to work in a team to create a tech-driven tool that contributes to Aegon's mission of helping people achieve a lifetime of financial security.
The team formation and ideation process ended on July 20, 2018. The selected teams will be announced on the Aegon Hackathon website in the third week of August.
Disruptive solutions
Underlining that the building blocks for financial security are Wealth and Health, Mark Bloom, Global Chief Technology Officer at Aegon, said: "We want disruptive solutions that marry Wealth and Health, allowing our people to live better, longer".
All efforts are now focused on September 20-21, 2018, when the nominated teams will gather for the innovation marathons in Mumbai (India), Budapest (Hungary) and Dallas (USA).

A maximum of 15 teams will soon be selected per region. Part of the fun inherent to hackathons is getting a buzz from operating under time restraints, will the clock ticking. Teams will have a maximum of 24 hours to work out their idea, before making a three-minute pitch to the jury that select the winners.
Brainstorming buddies
So, where do you start? If you or your colleagues have a clear vision of a 'hack' that meets the Health & Wealth challenge, enter it today at Aegon Hackathon 2018 (external link). You can then start the collaboration and team-building process to make sure you and your idea secure a place at the 24-hour event in your region.

Perhaps you are more of a hands-on doer than an ideas person? That's no problem. Go to the website and you will see that there are already a host of ideas and plans looking for collaborators, specialist tech skills and visionaries to get them to the competition stage.

Prizes
Up to €36,000 will be made available in each region to fund promising concepts that we can take to market with a solid return on investment. The winning teams in each location will receive €500 cash or cash equivalent per team member. Second and third place teams will take home a must-have tech valued up to €200 per person. In addition, the winning teams will receive a personal LinkedIn endorsement from the regional Aegon CEO.

And, there is also the experience itself. Commenting on Aegon's Spring 2017 hackathon, winning team member, Alasdair Gilles from Aegon in the UK said, "Participating in the hackathon was one of the most challenging and interesting things I've been involved in at Aegon."

The co-sponsors of Aegon Hackathon 2018 are Microsoft, Amazon Web Services, Tata Consultancy Services and Deloitte.